Are you paying too much commission on your student referrals?
Do you need more work?
If you're a fully accredited driving instructor and you are looking for more work we can help.
You may be familiar with other driving school commission structures out there and so will know that many of them do not come cheap.
We understand that having a full calendar is important but it has to be sustainable. And we also understand that a brand is nothing without a trusted reputation and that a trusted reputation is a by-product of happy instructors.
At RAC School of Motoring we pride ourselves on understanding the needs of the instructor ... not just the needs of the student.
We've analysed all other partner models on the market and have developed a fee structure that hands down beats everything else out there.
But don't take our work for it.
Meet Craig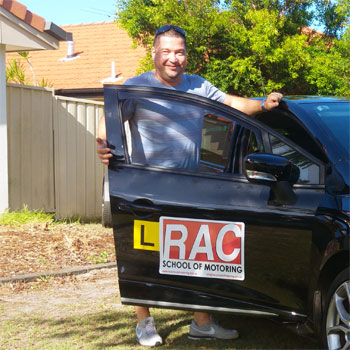 Craig was working for one of the other big Brisbane driving schools.
He was kept busy but the fees were too high to be sustainable and he didn't feel the school really cared about him.
"I'm really glad I made the switch to RAC School of Motoring. The guys in the office are really friendly and approachable and I feel I have a voice now.

They don't send me on lessons all over Brisbane but instead work really hard to keep me in my preferred operational locations which has been fantastic.

I'm just as busy as I was before but I'm making big savings on referral fees. I'm really happy with things right now."
Thanks to the lean way we run our business we operate with lower overheads and can pass those savings on to our instructor partners ensuring we have a business model that is sustainable for both us and the instructor.
Are you newly qualified or an independent instructor looking at new options?
So was Ron when he contacted us.
Ron was ready to start growing his business but when it came to connecting with new students he was failing.
"It was harder than I expected to get a full diary of students. I had no experience with websites and social media so was feeling lost.

I was struggling to get by on 5-10 hours a week. I saw RAC School of Motoring advertising and gave them a call.

They seemed genuine but I'm naturally skeptical. I went on a no obligation trial to see if they could deliver on their promises.

6 Months on and I couldn't be happier. I wake up every day check my diary and go do what I love doing and leave the rest to them."
It's a fact... At RAC School of Motoring our instructor partners get more for less.
Make the switch today and find out why the grass is greener on our side.
Start your application now...